Save Your 'Beat Up' Liver
Before It's Too Late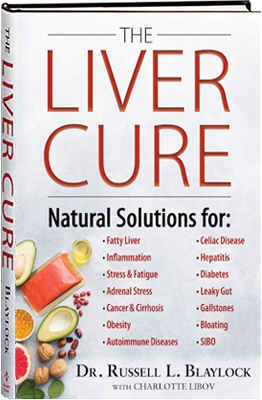 Dr. Russell Blaylock, M.D., is exposing the truth about this deadly silent killer threatening 100 million Americans.
In his latest book, The Liver Cure, he dives deep into fatty liver disease, the silent condition that many Americans don't even know they have.
Dr. Blaylock reveals the many dangers of untreated fatty liver, the result of which can be fatal.
Based on his decades of research, Dr. Blaylock issues the following warning:
If You're Middle Aged, Overweight, Or Have Diabetes—You're Most at Risk from Fatty Liver Disease.
Fatty liver doesn't discriminate. It affects both men and women, young and old. According to recent statistics, 80 to 100 million Americans are affected by nonalcoholic fatty liver disease (NAFLD).
And most people never experience symptoms until the damage is severe. This is why so many doctors miss it!
Fatty liver, if left untreated, can lead to a whole world of hurt:
Cirrhosis of the liver
Liver failure
Increased risk of multiple cancers
Sluggish metabolism and extra belly fat
Blood sugar problems
Feeling tired and run down all the time
Poor memory and foggy brain
And that's just scratching the surface.
But Here's the Good News—Most of This is Completely Preventable and Reversible When You Follow the Advice in The Liver Cure
You don't need to completely change your lifestyle or give up all your favorite foods.
As you'll see, all it takes are a few simple tweaks to your daily routine to produce dramatic results:
Ignite your metabolism to blast away belly fat and shrink your waistline
Boost your energy levels consistently and naturally (no jitters or crashes)
Clear away brain fog and sharpen your memory
Potentially eliminate conditions like diabetes and get off blood sugar medication
Supercharge your immune system
Stave off deadly diseases such as liver cancer, colon cancer, and cirrhosis.
Prevent Alzheimer's and Parkinson's disease
Here's a small taste of the liver-saving, longevity-boosting secrets you'll discover on every page of The Liver Cure:
The best supplement shown in studies to reduce fatty liver and melt visceral belly fat. It also prevents muscle loss (page 140).
The Red Meat Myth. Eat this delicious type of beef once or twice a week to load up on liver-detoxifying omega 3s (page 315).
The #1 mineral your liver needs for consistent energy that lasts all day (page 8).
The #1 food item that causes fatty liver disease. This is probably sitting in your fridge right now! Throw it out! (page 117)
The 2 best fat-incinerating diets that can reverse fatty liver disease—And no . . . they're NOT keto or paleo (page 326).
The ancient European berry that can completely correct type 2 diabetes (page 179).
The 4 natural compounds shown to have better anticancer effects than chemotherapy (page 284).
Why intense aerobic exercise is bad for your liver. And the #1 'easy exercise' that's safer and more beneficial (page 97).
How to stop "type 3 diabetes" of the brain which has been linked to Alzheimer's disease (page 83).
And the best part?
As a loyal subscriber and reader, you can claim your very own FREE copy of The Liver Cure today!
But only while limited supplies last. And we're even throwing in 3 FREE bonuses as our way of saying thank you.
You deserve to feel and look your best, regardless of your age. And keeping your liver healthy is critical for boosting your longevity and quality of life.
That's exactly what Dr. Blaylock will help you do once you join him inside The Liver Cure.
Don't fall victim to the silent killer of fatty liver like so many others. Take action and save your liver today!