Celebrated Cardiologist Details
His Encounters With Death — and
Offers Proof of an Afterlife
Dr. Chauncey Crandall no longer questions the presence of Heaven.
Over four decades of treating sick hearts, he has witnessed astonishing healings and recoveries that modern medicine would call impossible.
He has seen the dead come to life — literally. He has felt the loving hand of the Lord during that sacred moment when a life passes from this world to the next.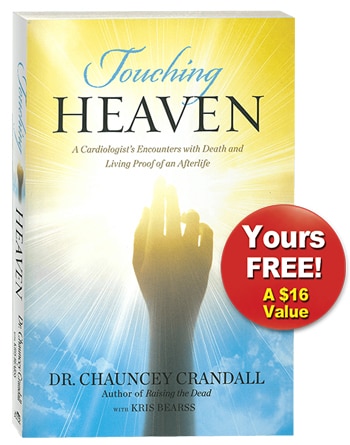 And in his inspiring book Touching Heaven, Dr. Crandall weaves together timeless Scriptural truths with the stories of his many encounters with the divine — as a doctor, a husband, a father, and most importantly, a Believer of the power of God in action.
God has given Dr. Crandall a mission to minister to his "tribe" both medically and spiritually. And without a doubt, there will be something — or many things — within the pages of Touching Heaven that will speak to your spiritual heart. Things that will help you find help for your soul, renew your spirit, and prepare for the time you are called to your eternal home.
As part of Dr. Crandall's mission, you can get a FREE copy of his book, Touching Heaven, with this special offer — only available to our readers.
In this book, you will see how to use his experiences as a steppingstone on your own path to operating in the light of Heaven. Whether you have doubts or you are a true Believer, this could be the most important book you'll ever read during your time on earth.
Because we have limited copies of this inspiring book, it's best to reserve yours right now to make sure you don't miss out on this opportunity. Just click the link below for details about this special FREE book offer.
Click Here Now to Get Your FREE Copy of
Touching Heaven: A Cardiologist's Encounters
With Death and Living Proof of an Afterlife!