Urgent Message for American Families
Federal and State Agencies Advise You Get Emergency Radio!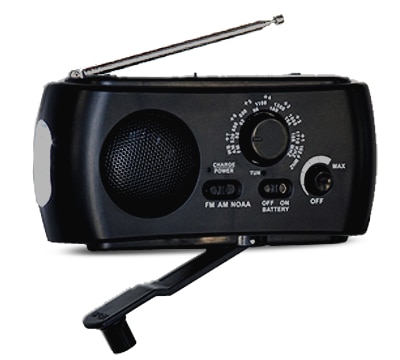 Picture This Very REAL Scenario:
A shortage of fuel has closed your electric utility — or any one of several natural or man-made disasters has just devastated your town, power is out all over the city with no signs of being restored, floodwaters lap at your doorstep, and you and your family are completely cut off from all human contact  . . . 
Are You Prepared?
How will you know if and when you need to evacuate? Is the water from your tap safe to drink? Which shelters are still taking families? Where do you go? What do you do?
Staying informed could be a matter of life and death.
That's why federal and state agencies advise that every American home should have an emergency radio.
Be Prepared in Any Circumstance!
If your electric power fails due to a massive health epidemic, storms, flash floods, hurricanes, earthquakes, tornadoes or even the ever-present threat of terrorism, you need an emergency radio that WORKS in a REAL emergency.
The Dynamo Emergency Weather Band Radio is the device you can depend on.
PLUS: This Emergency Radio Retails for $29.95 — Get It FREE with our Special Offer and Save $29.95!
This powerful radio lets you stay informed throughout any type of emergency. Most importantly, the Dynamo Emergency Weather Band Radio includes:
Hand-crank generator (in case batteries fail)
Super-bright LED 3 bulb flashlight
Additional life-saving features include:
NOAA weather band
Long-range AM receiver
High-sensitivity FM band
Built-in high-quality 1.75" speaker
360-degree swiveling telescopic antenna
Convenient wrist strap
USB output jack to charge cellphone or other device
Mini USB input jack to charge radio and built-in flashlight
Headphone plug-in
Operates on 2 AA Ni-Cad rechargeable batteries (included) or on 2 D dry cell batteries for backup (not included).
This sturdy radio is a must-have in every home and makes a great gift for friends and family you want to keep safe!
The Dynamo Emergency Weather Band Radio retails at $29.95, but it's yours for FREE — with our special offer with Newsmax Magazine. Your family's safety is worth it — don't miss this offer.
Claim Your FREE Emergency Radio
With This Special Offer — Click Here Now!