Sean Brodrick presents a special event:
Wild Gold Profits in World Gone Mad
Dear Reader,

I would like to invite you and a select group of investors to take part in a historic event.

Let me ask you this...

When the Fed cranks up the printing presses, devalues the dollar, and manipulates monetary policy... which investment shoots up?

When unemployment soars, wages stagnate, manufacturing output drops, and our country's GDP craters... where do investors turn?

When civil unrest, market chaos and political uncertainty rule the day... what provides both protection and a shot at outsized gains at the same time?

The answer, of course, is... GOLD!

Right now, these events and a number of other powerful forces, have created a once-in-a-lifetime profit opportunity for you.

But time is of the essence.

Which is why I urge you to click below and watch this...




I will pull back the curtain and show you how minor jumps in gold's price could make you as much as 1,000%.

And it's all due to my secret "Gold X" indicator... which... let's me know when these small spikes are about to happen.

Plus... I'll reveal the exact trades that can potentially lead to returns of 229%, 370%, even 1,186%.

In fact, I'm confident you can look forward to these kinds of returns as gold prices begin to surge to all-time highs!

Listen...

You don't want to miss out on this event. Because I'm not the only one who sees gold skyrocketing in the weeks to come.

Some of the top investors in the world are going "all-in" on gold now.

Billionaire investor, Thomas Kaplan, says: "I do believe gold embarks on the next leg of its bull market and goes past $1,900 and ultimately goes to $3,000 to $5,000, if not a lot higher..."

World famous investor, Jim Rogers, agrees that "Gold will be the great investment over the next decade."

And billionaire investor, Paul Tudor Jones, said: "I have never been a gold bug, it is just an asset that, like everything else in life, has its time and place. And that time is now."

If you want to take advantage of this once-in-a-lifetime profit opportunity watch this...




Sincerely,



Sean Brodrick, Editor
Wealth Megatrends



Special Online Presentation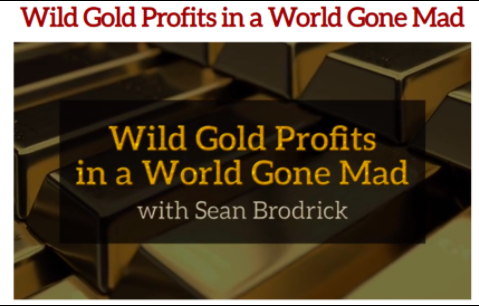 ---