To receive daily, prophetic emails from The Elijah List to your inbox CLICK HERE
A "mandate" for abortion?
Feb 16, 2021
Dear Pro-Life Friend,

You've been selected to participate in a special 2021 PRO-LIFE SURVEY.

Students for Life of America, the largest pro-life youth organization in the nation with more than 1,280 active groups, is conducting this survey to help us gauge the enthusiasm of the pro-life movement in 2021.

With their full embrace of late-term abortion and even infanticide, the Abortion Lobby's true colors have been exposed like never before...and many Americans are rejecting their abortion extremism.

Will you please click here to begin your 2021 PRO-LIFE SURVEY?


2021 PRO-LIFE SURVEY

The nation's largest abortion vendor, Planned Parenthood, committed 345,672 abortions last year and raked in over $600 million in taxpayer funding. Meanwhile, they spent a whopping $45 million to elect pro-abortion politicians in 2020.

Do you agree Planned Parenthood should be DEFUNDED?






For Life,


Kristan Hawkins
President, Students for Life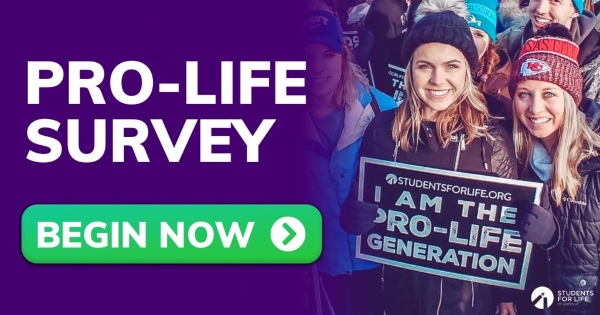 Students for Life of America (SFLA) is a 501(c)3 organization. All donations are 100% tax-deductible.
Students for Life of America
4755 Jefferson Davis Highway Fredericksburg, VA 22408
Office: 540.834.4600