Dear Friend,
What is the most difficult situation you are facing in your life right now? Does it seem hopeless, overwhelming, and you just feel like giving up?
In my own life, I have experienced devastating defeats. At times, I have tried and failed only to try and fail again. I have stepped out, full of faith, and run straight into solid brick walls that would not budge, so I know how you may feel.
Does that surprise you to hear?
I am amazed sometimes to hear there are people who actually believe that because I'm a Bible teacher, they think I just walk through life with no problems and everything goes my way. If you only knew how far that is from reality!
I have had to overcome sexual abuse, depression, fear, rejection, lack, persecution... and the list could go on. Yet, through it all, I can look back and say that I have truly enjoyed a lifetime of experiencing the miracles of God.
I have learned how to tap into God's miraculous power to break barriers, receive healing, turn overwhelming circumstances around, and experience supernatural favor. I want to share with you how you can experience God's miraculous power in your life, too.
I sincerely believe my new book, It's Not Over Until You Win, will show you how to stand in faith in the midst of seemingly impossible situations and experience for yourself that when God is on your side, it's not over until you win!
Beloved, I honestly believe you should read this book. As I share the events from my own life, you will:

Learn how you can experience the presence and power of the Holy Spirit.
Discover how the Holy Spirit wants to relate to you in supernatural, practical, and transformational ways.
Learn how it's not over until YOU win, regardless of the challenges or failures you may have experienced in your life.
Believe me when I tell you this is a massively practical book. It will change your life. I urge you to get your copy today!
Remember... It's not over until you win!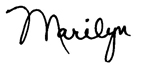 Marilyn
P.S. Your life will never be the same after reading my new autobiography, It's Not Over Until You Win: My Lifetime of Experiencing the Miracles of God.