Your Prophetic Journey
Essential Keys for Properly Stewarding Prophetic Revelation


Free Video Mini-Course with James Goll starting today!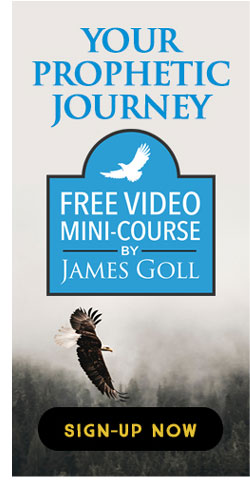 Do you prophesy? It's one of the greatest ways we can impact those around us.
Scripture is clear, God's heart is that ALL His children would prophesy!
In other words, God wants EVERYONE to learn to hear Him and release His encouragement to others—and that includes YOU.
Have you ever wondered...
How do prophetic people RECEIVE revelation from God, and then effectively RELEASE that revelation to others?

Once I receive a prophetic word, how do I know how to properly interpret and APPLY it?

How do I use the prophetic gift God has given me to touch the world around me while continuing to grow in my prophetic anointing?
As a Believer in Jesus, you are called to speak the life of God into the world around you! It's as simple as giving voice to the revelation God has given you.
But even though anyone can do it, I know how helpful it is when someone with experience comes alongside you to give guidelines and practical tools for avoiding common pitfalls.
That's why I've created a FREE video mini-course to share some of what I've learned in over 40 years of prophetic ministry.


I want to help you grow in your personal prophetic journey and learn to properly steward prophetic revelation so you can:
Freely receive and release prophecy
Properly interpret and apply prophecy
Change the world while continuing to grow in your prophetic gift
I hope you will join me for Your Prophetic Journey: Essential Keys for Properly Stewarding Prophetic Revelation!

In this FREE video mini-course, you will learn:
The root definition and purpose of prophecy
Ways prophecy is received from God
How prophecy is effectively released to others
How to make sure revelation is from a pure source
The importance of properly interpreting prophetic revelation
7 important variables for correctly applying prophetic revelation
Different ways the prophetic spirit may use you to impact all spheres of society
How to continue to grow in your prophetic anointing

Blessings to grow exponentially in your prophetic journey!
James
Dr. James Goll
Founder, God Encounters Ministries
Author, The Prophet, The Seer, The Discerner