Breaking the Demonic Strongholds of Jezebel, Athaliah and Delilah

Free LIVE Webinar with Dr. Sandie Freed
on Tues Aug 11 at 4 pm Eastern
Everyone who registers will receive access to the replay.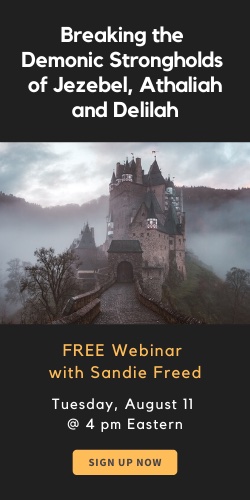 In spite of the darkness manifesting around the world, the Body of Christ is in a season of spiritual advancement.
God is inviting you to go deeper in your revelation to understand how to counter the demonic powers that oppose Him.
It is time to break free from every tactic of Jezebel and discern how the spirits connected to her lure you into the darkness!
The "demonic threefold cord"—Jezebel, her daughter Athaliah, and Delilah—is very seductive.
It is time to confront and completely dethrone these spirits from your life.
The Jezebel spirit…
will lie to you and suggest that you have no hope
will cause you to confess a death wish
Remember, when Jezebel threatened to kill Elijah, he actually believed her. What did this mighty prophet do in response to this spirit? He ran off to the desert and prayed to die!
But it's time to move beyond your past and establish new vision and hope for your future.
Athaliah was…
the evil queen of Judah who was also Jezebel's daughter
more ruthless than her mother as she destroyed her own grandsons (all but one) to illegally seize the throne
Today this spirit attempts to abort the destiny of the generations.
But it's time to empower the generations to break forth and fulfill divine destiny!
Delilah was…
very seductive
the woman who deceived Samson and sold him into bondage
The evil seduction of this spirit today intends to rob you of your power, authority and future.
It's time to defeat this giant in your life just as David defeated the Philistine giant, Goliath!
The demonic threefold cord of Jezebel, Athaliah and Delilah target God's children with a lockdown of hope deferred.
However, you can break free from the demonic strongholds of Jezebel, Athaliah and Delilah and see through their seductive plans.
If you want to grow in spiritual discernment and be empowered to rise up with courage to accomplish the fullness of your destiny, I invite you to join me for this FREE webinar on Tues, Aug 11 at 4 pm Eastern Time (New York Time).


In this FREE webinar, you will learn:
How the demonic spirits of Jezebel, Athaliah and Delilah operate today
The dynamics of a threefold cord in spiritual warfare
How to identify and defeat a death assignment over your life
Foundations for pulling down spiritual strongholds
How to rise up in the Jael anointing to defeat your enemy!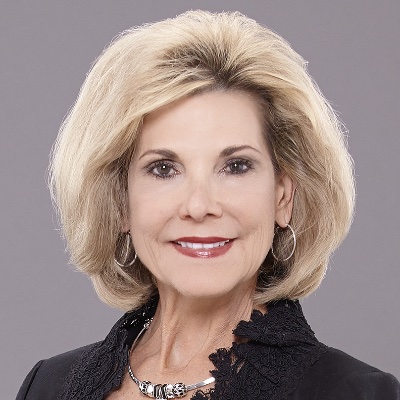 Blessings to break these demonic strongholds in your life!
Sandie
Dr. Sandie Freed
Sandie Freed Ministries
Author, The Jezebel Yoke, Power in the Blood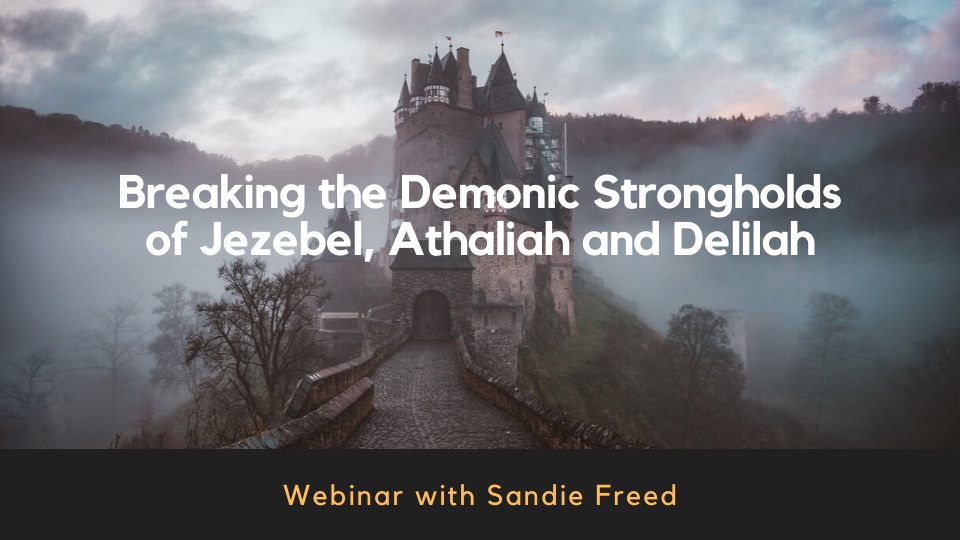 For More Information
Email: support@empower2000.com
Phone: 540-445-1463