Being Continuously Filled with the Holy Spirit
It's Your Time to Walk in Victory!
With Jennifer LeClaire
Free LIVE broadcast (webinar) on Wed Nov 7th @ 2 pm Eastern Time


We need the Holy Spirit more than we know.
He gives us strength. He comforts us. He helps us resist temptation and so much more.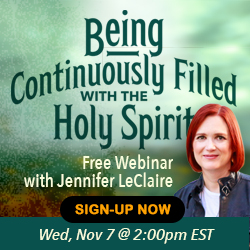 In the Book of Acts, we see the apostles were filled with the Spirit over and over—it wasn't a one-time occasion.
How do you get and stay filled with the Holy Spirit? How do you know you're really filled with the Spirit?
Wherever you are in the Lord, you can go deeper with the Holy Spirit.
Scripture gives compelling proof for the baptism in the Holy Spirit in order to build your faith for your first encounter or a continuous filling.
In this session, I will convince you biblically that being continuously filled with the Holy Spirit is vital to walking in victory, and release prayers over you to be filled so your spiritual gifts can rise to a higher level.
During this webinar, you will learn:
Why we need to be continually filled with the Holy Spirit.
How to stay full of the Spirit in your life.
The clear evidences of being baptized in the Holy Spirit.
Ways being filled with the Spirit can be externally observed.
The four key elements in the new birth.
How you can position yourself to receive more and more of the Spirit's Presence.

FREE Webinar: "Being Continuously Filled with the Holy Spirit" with Jennifer LeClaire
Wednesday, November 7th at 2:00 pm Eastern Time (New York)


BIOGRAPHY
Jennifer LeClaire is an internationally recognized author, conference speaker, and apostolic-prophetic voice to her generation. She carries a reforming voice that inspires and challenges Believers to pursue intimacy with God, cultivate their spiritual gifts and walk in the fullness of what God has called them to do.
Jennifer is the senior leader of Awakening House of Prayer in Fort Lauderdale, FL, founder of the Ignite Network and founder of the Awakening Blaze prayer movement, and previously served as the editor of Charisma magazine. She is a prolific author who has written over 25 books and authors one of Charisma's most popular prophetic columns, The Plumb Line.

Blessings to be continuously filled with the Holy Spirit!
Jennifer
Jennifer LeClaire
Founder, Jennifer LeClaire Ministries
P.S. Don't miss our LIVE broadcast!!! Sign up NOW!
Everyone who pre-registers for this webinar will receive the webinar study guide and video replay. This includes those who can't attend the live event. You can even register after the webinar is over and still receive access to the replay.
Only those who join the LIVE broadcast will be able to hear and participate in the Q&A because the Q&A will NOT be included in the replay.
Those who participate in the entire LIVE broadcast from beginning to end will receive the PowerPoint.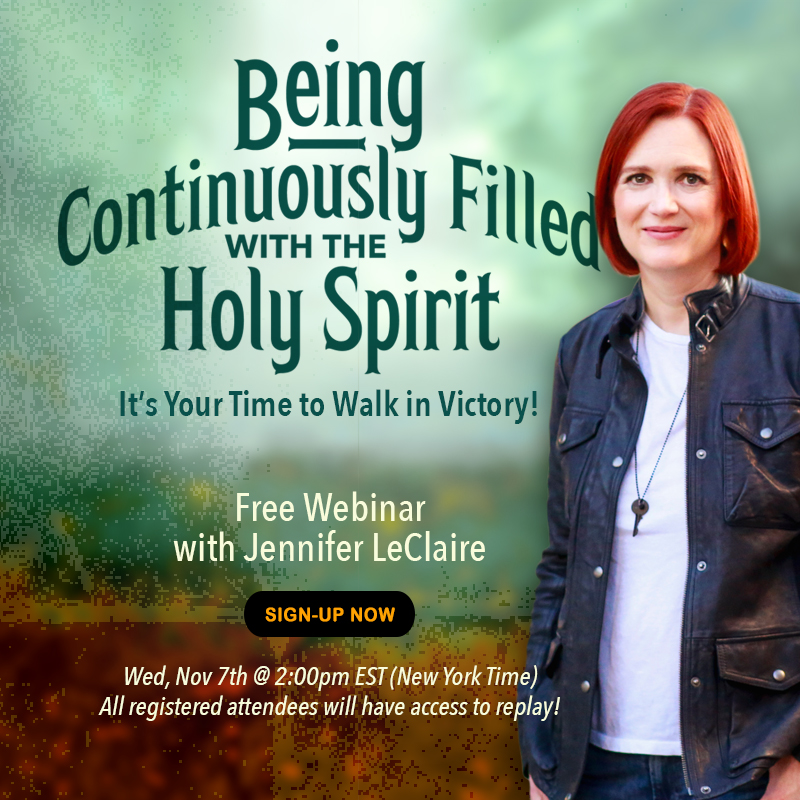 FREE Webinar: "Being Continuously Filled with the Holy Spirit" with Jennifer LeClaire
Wednesday, November 7th at 2:00 pm Eastern Time (New York)